Zyxel VMG3925-T10C - ADSL / ADSL2+ / VDSL (FTTC) / FTTP / G.FAST Compatible
(includes initial despatch and configuration)
The Zyxel VMG3925-B Series Dual-Band Wireless AC/N VDSL2 Combo WAN Gigabit Gateway provides high-speed VDSL Internet access to meet the worldwide market requirements for multi-play services. Featuring the built-in 3x3 802.11ac WLAN that relieves to those troublesome wirings, the VMG3925-B Series brings extremely great WiFi user experience and coverage. Moreover, its user-oriented design also allows it to provide powerful functions while it comfortably meets the style of every customer.
G.vector to optimize performance and CAPEX
The Zyxel VMG3925-B Series of Dual-Band Wireless AC/N VDSL2 Combo WAN Gigabit Gateway features Vectoring technology to eliminate cross-talk or interference among different VDSL lines. With the mechanism, Vectoring significantly increases the bit rates to compete with cable/fiber technology as well as to enlarge the service coverage without changing the current infrastructure – a way to save cost significantly comparing to Fiber-To-The-Home (FTTH) deployments. In the meantime, the CAPEX can also be optimized by the improved data rates and coverage without upgrading the existing equipment.

Combo WAN for simplified ISP logistics and optimized CAPEX
With the Zyxel VMG3925-B Series, there's no need for service providers to invest on and replace CPEs at customer sites when customers migrate from ADSL2+ or VDSL2 to PON or 3G as all they need to do is to unplug the DSL line, and then plug an Ethernet cable to the Ethernet WAN port. The existing CPE VMG3925-B Series will be used to terminate the IP connections via the WAN interface. In most cases, users can still connect with the original CPE without replacing the unit due to the difference between physical interfaces.

802.11ac technology for extreme performance and coverage
The Zyxel VMG3925-B Series features 802.11ac technology to provide the ultimate solution for both speed and coverage. With 802.11ac wireless data rates of up to 1.3 Gbps*, the VMG3925-B Series provides stable, reliable wireless connections for high-speed data and multimedia usages. The 802.11ac technology empowered the device to eliminate dead zones and to extend coverage while retaining backward compatibility with any WiFi certified device.

Quality of Service (QoS) support
With the QoS features from Zyxel VMG3925-B Series, service providers can freely design their QoS policies and prioritize mission-critical services such as IPTV and VoIP based on their service plan offerings. This increases network efficiency and productivity that enable service providers to offer a real multi-play solution that meets the needs of residential users.

TR-069 remote management
The Zyxel VMG3925-B Series incorporates the TR-069 standard management specifications for service providers to manage and configure client devices remotely without any end-user intervention. This feature offers a true "plug-and-play" experience while reducing deployment complexity to help saving operating and maintenance costs for service providers.

Application Diagram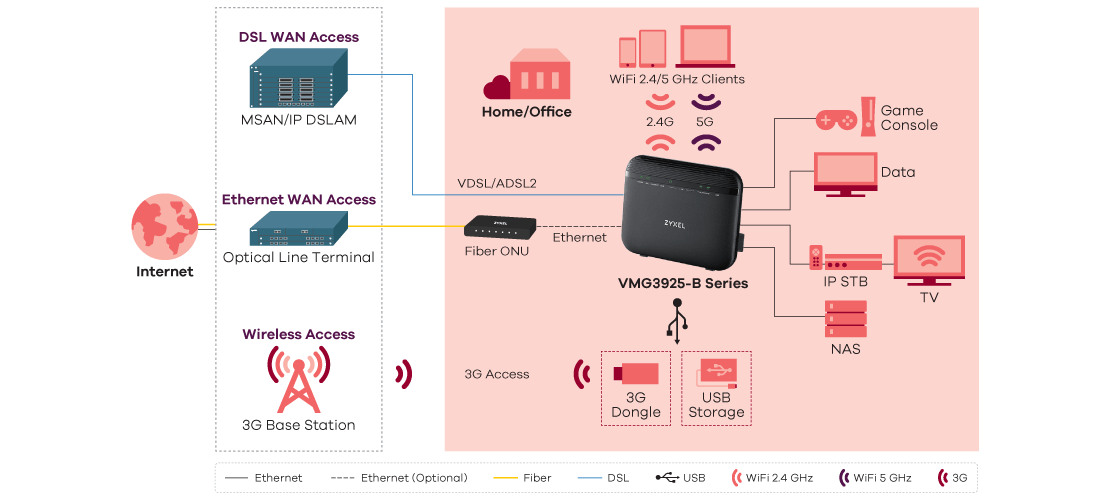 ---
*All specifications are subject to change without notice.
Wireless
IEEE 802.11ac 5 GHz with up to 1.3 Gbps* data rate
IEEE 802.11n 2.4 GHz with up to 300 Mbps* data rate
Wireless Protected Setup (WPS)
WEP data encryption (64/128 bit)
WPA/WPA2, WPA-PSK/WPA2-PSK
WiFi scheduling
Multiple SSID (up to 4)
VDSL and ADSL Compliance
VDSL/ADSL2+ compliance
VDSL2 (G.993.2), band plan Annex A (over POTS), Annex B (over ISDN)
Support profile 8a, 8b, 8c, 8d, 17a
VDSL1 (G.993.1)
ADSL2+ (G.992.5) support Annex A, B, M
ADSL2 (G.992.3) support Annex A, B, L, M
ADSL (G.992.1) Annex A, B
ANSI T1.413 issue 2
G.INP (G.998.4)
G.vector (G.993.5)
VLAN/QoS
Support flexible traffic classification
6-bit DiffServ Code Point (DSCP, RFC 2474)
802.1P 3-bit Class of Service (CoS)
802.1Q 12-bit VLAN ID
Router/Bridge Features
IEEE 802.1d transparent bridge
PPP over Ethernet (RFC 2516)
MAC encapsulation routing/IPoE
Network Address Translation (NAT)/Network Address Port Translation (NAPT)
NAT server (Port forwarding)
DHCP client/server/relay
DNS proxy/dynamic DNS
Static route/policy routing
IGMP v1, v2, v3
IP protocol v6 (IPv6)
Security
Firewall
Generic packet filter
DoS attack prevention
Parental control
USB
Management
Web GUI (HTTP/HTTPS)
Command Line Interface (CLI)
Firmware upgrade via HTTP/FTP/TR-069
DSL forum TR-069/TR-098/TR-181/TR-111/TR-064
802.1ag Connectivity Fault Management (CFM)